General Dentistry
Comprehensive Family Dentistry
When we say that we're committed to providing family dentistry, we mean it. From 1 to 101, we see and treat patients of all ages who have a variety of dental care needs. Whether you're here for routine preventive care or extensive restorative or cosmetic work, we want to help you get your best smile.
Plan a Visit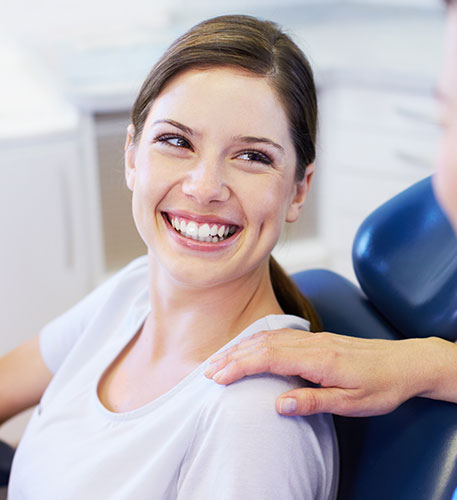 Preventive Care
When it comes to your smile, prevention is the best way to ensure that it stays healthy. By keeping up with your regular dental visits and maintaining a good at-home oral hygiene routine, you're doing your part to help your pearly whites. At Del Ray Dental Center, we keep up with our end of the bargain by offering a full line-up of preventive family dentistry services to keep everyone smiling.
Routine Exams & Cleanings
Oral Cancer Screenings
Dental Sealants
Fluoride Treatments
Periodontal (Gum) Care
Nightguards & Athletic Mouthguards
Sleep Apnea Appliances
Contact Us
Restorative Dentistry
For many of us, a routine visit to the dentist leads to us finding out that our prevention just wasn't enough to keep our teeth healthy. We've developed a cavity or some level of gum disease, or maybe dental trauma caused a problem with a tooth. Whatever your reason for needing them, our restorative services can help you get your smile back on track. For more invasive procedures, we offer gentle anesthesia to help you remain comfortable while we work.
Tooth-Colored Fillings
Dental Crowns & Bridges
Full & Partial Dentures
Oral Surgery
Tooth Extractions
Children's Dental Care
Our family dentistry services include dental care that's uniquely tailored to the needs of children and young adults. We understand that younger patients, especially young children, need a gentler touch and more soothing voice than our adult patients. Our team knows how to interact with your children in a way that puts them at ease about their visit to our Alexandria dental office. We also enjoy taking the time to help your child learn to brush and floss properly so they develop good oral hygiene habits early. This helps them have a solid foundation for a lifetime of healthy smiles. Remember the rule of firsts: first visit by first birthday or first tooth.
Children's Exams & Cleanings
Protective Dental Sealants
Fluoride Treatments
Tooth-Colored Fillings
Proper Brushing & Flossing Education
Call to schedule an appointment for your child today!
Make an Appointment