Cosmetic Dentistry
Alexandria Cosmetic Dentistry
Your smile is one of the first things people notice about you. Make sure you're always making a good impression by making sure your smile is the best it can be. Del Ray Dental Center's cosmetic dentistry treatments include whitening, smile makeovers with veneers, and orthodontics for teeth straightening. Whatever your needs, we can help you get your ideal smile.
Make an Appointment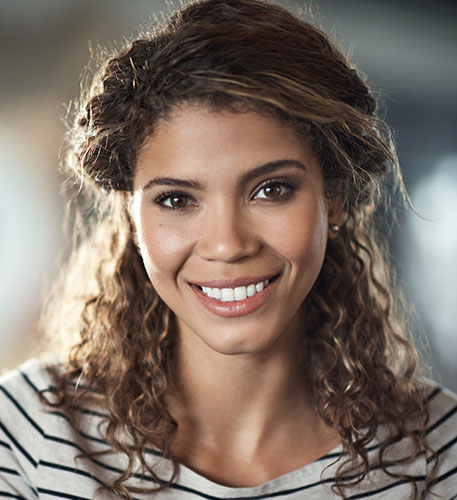 Veneers
From subtle changes to complete makeovers, veneers can change your look in nearly any way that you can imagine. Cover aesthetic chips and cracks, lengthen teeth, and even whiten severely discolored teeth with the help of veneers. We offer two different veneer options, so you can get your best smile on your budget.
Porcelain veneers are thin shells made of durable porcelain. Our dental lab hand-sculpts these shells based on a smile design that you come up with alongside Dr. Razmjou. Before we place the veneers, we'll remove a small bit of tooth enamel to ensure that your veneers fit snugly and don't feel bulky. In fact, they'll feel like your natural teeth. You can have veneers placed on as few or as many teeth as you'd like. No matter what, we'll always make sure that your new veneers blend in seamlessly with your surrounding teeth for a natural look.
Snap-On Smile®
If you're looking for a change to your smile that isn't permanent and is easier on your wallet, consider Snap-On Smile. It's available in a variety of designs and tooth colors, so you're sure to find one you love. Once the lab has sent us your new smile, we'll make sure it fits right. Then, when you're ready to wear it, simply snap it into place over your teeth. It really is that simple!
Professional Teeth Whitening
Is your smile just not as luminous as you'd like? Light up a room again with your pearly whites with the help of our professional teeth whitening. We have a few different options to choose from because we believe that cosmetic dentistry should be available for all of our patients, no matter their budget. Not sure which is best for you? Just ask a team member at your next visit!
KöR® Deep Bleaching uses powerful bleaching gel to whiten teeth up to 16 shades while not causing extra sensitivity.
One-visit whitening in our office brightens your smile by up to eight shades in only about an hour in the dental chair.
Use our custom-fit whitening trays and professional-strength gel to whiten your smile in the comfort of your own home.
One-size trays offer a budget-friendly option without sacrificing on results – you'll still get our professional-strength gel to use with your trays!
Schedule a Consultation