Dental Crowns
Natural-Looking Dental Crowns
A dental crown is one of the most common restorative dental procedures that we provide at Del Ray Dental Center. Crowns are versatile, look natural, and provide a tooth with protection and strength. Dr. Razmjou can evaluate your needs and determine if you have a tooth that needs a crown. Traditionally, dental crowns take two or more appointments to create and place. However, with our advanced CEREC® technology, we can design and bond a natural-looking crown to your tooth in just one visit!
Contact Us
What Is a Dental Crown?
A dental crown is also called a tooth cap. It is placed over a natural tooth and allows you to have full function of your tooth again. To properly fit you for a dental crown, we make sure the tooth is solid enough to have a crown bonded to it – if the crack is deep or part of the tooth is unstable, we make sure that the area is bonded or even shaved down to make it more solid. Once your tooth is a size and shape appropriate for a crown, we take an impression to send to the lab where your crown will be made. We also use the impression to create a temporary crown to protect your tooth until your permanent crown is ready. Once your permanent crown is delivered from the lab, we make sure it fits okay and that your bite hasn't changed. We can adjust the height of the crown until it feels just right. Then we bond the crown to your natural tooth.
If you experience any discomfort, notice a change in bite, or have increased headaches after we place your crown, give us a call so we can bring you in for an adjustment.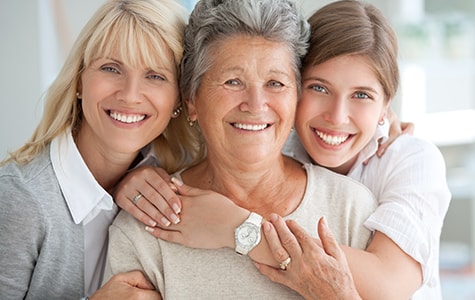 Why You Might Need a Crown
If you have one of the following issues, you might benefit from a dental crown.
Cracked or broken tooth
Large filling
Single-tooth dental implant to replace a missing tooth
Dental bridge replacing one tooth or a few missing teeth
Infected tooth that has had a root canal
Schedule Appointment
Cost of a Dental Crown
Before we begin your treatment, we go over your estimated costs so you're not caught off-guard. If you have dental insurance, we work with your insurance company directly to file your claim. We also have a variety of financial options for our patients. Our own in-house Del Ray Dental Savers Plan helps our uninsured patients get the care they need, and we accept CareCredit® and Lending Club Patient Solutions. Speak with a friendly team member to learn more about your options!

Contact Us